BBC #NO SMALL TALK + VR CITY

The series of animated illustrations appear on a book placed on the table with the presenters Cherry Healey and Emma Gannon. The show is a 360 video talk show demonstrating the power of conversation and discusses 'the big ideas that underpin our daily life, and the changing world around us'. The programme can be viewed here with a virtual reality headset, or on Youtube if you don't have a VR headset https://www.youtube.com/watch?v=Od6IIIkq__8 or view the video embedded below.
Leading independent VR companies Lyristic and VR City announce that BBC Taster have launched No Small Talk; a Virtual Reality talk show aimed at millennial women and designed for viewing on Google Cardboard and Samsung Gear VR. The co-production by Lyristic and VR City of the 360 VR film lets its audience sit in on a conversation between two well-known, inspiring women; Cherry Healey and Emma Gannon, while they discuss the big ideas that underpin our daily life, and the changing world around us.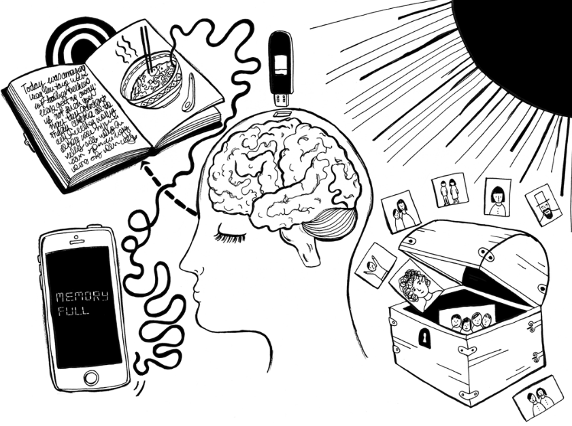 No Small Talk's Executive Producer, Catherine Allen says: "We are thrilled to be launching No Small Talk with the BBC. Some of my most enlightening life moments have been because of great conversations. We set out to use the power of virtual reality to scale the magic of conversation; inspiring our audience to get together with friends, put down their smartphones and have their own small-talk-free conversations."

No Small Talk's Director, Darren Emerson says: "We had a clear goal to try and create a VR format that felt immersive, unique and fulfilled the challenge of delivering a vibrant editorial that was intimate, surprising and accessible to women. We wanted to ensure that the viewer felt part of the conversation but we also wanted to devise tools to enhance the experience beyond just having a seat at the table. The combination of the narrative, environment, camera positioning and visual effects all work together to deliver a unique experience that we believe offers the audience something different and compelling."

Chris Sizemore, who commissioned No Small Talk for the BBC says: "No Small Talk is all about exploring the cutting edge, editorially and technologically, in order to be prepared to best meet the evolving expectations for media of young adult female audiences. The vision for this piece of content format innovation is to connect "Generation Podcast" with an emerging new media technology: 360 video & VR headsets. The experience offers this audience the chance to sit in on Cherry and Emma's conversation with a sense of intimacy, to feel like they are present and taking part, not just observing from a distance or 'through a window'.